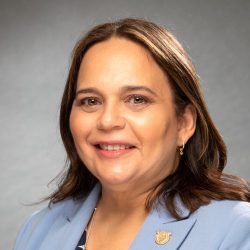 Maritza Barreto Orta, Ph.D
Maritza Barreto Orta es Geóloga Profesional, Profesora Distinguida y Catedrática de la Escuela Graduada de Planificación del Recinto de Río Piedras de la Universidad de Puerto Rico. Además, es miembro del Comité de Expertos y Asesores sobre Cambio Climático y directora y fundadora del Instituto de Investigación y Planificación Costera de Puerto Rico (CoRePI-PR).
Ha fungido como Directora de la Red de Playas de Puerto Rico y el Caribe, miembro de la Asociación Americana de Preservación de Costas y Playas (con sus siglas en ingles ASBPA) y miembro de la Red Pro Playa de Latinoamérica. Su investigación se centra en el tema de erosión costera y geomorfología de playas en sistemas isleños, especialmente para las áreas de Puerto Rico y la República Dominicana. También ha trabajado con proyectos de ciencia ciudadana en las costas como modelo para promover la inserción de las comunidades costeras en los temas de riesgos costeros. Actualmente trabaja en proyectos de investigación en conjunto con los profesores Luis Santiago, Aurelio Castro y estudiantes de la Escuela de Planificación, Ciencias Ambientales y el Departamento de Historia. Algunos de sus proyectos son auspiciados por FEMA, NASA, NOAA y fondos institucionales.
Publicaciones
Juan L. Torres-Pérez, Carlos E. Ramos-Scharrón, William J. Hernández, Roy A. Armstrong, Maritza Barreto-Orta, Jorge Ortiz-Zayas, Liane S. Guild and Roberto Viqueira. 2021. River Streamflow, Remotely Sensed Water Quality, and Benthic Composition of Previously Undescribed Nearshore Coral Reefs in Northern Puerto Rico. Frontiers in Marine Science. published: 05 October 2021.
Pérez-Valentín, K. ;Barreto-Orta, M.; Castro, A.; Montañez-Acuña, A. and Cabrera-Valentín, N. 2021. Revealing geomorphic changes after the occurrence of a seismic event on the south coast of Puerto Rico. Shore and Beach. Vol. 89, No. 1, Winter 2021.
Barreto, M., Méndez Tejeda, R., Cabrera, N., Bonano, V., Díaz, E., Pérez, . K., & Castro, A. 2021. The state of coastal erosion in Puerto Rico after Hurricane María. Revista Geográfica De Chile Terra Australis, 1(1), 29–40.
Luis Santiago, Barreto, M., Montañez, A., Flecha, T.Cabrera, N., Bonano, V., Bracero, L and Díaz, E.2020. A Coastal Vulnerability Framework to Guide Natural Infrastructure Funds Allocation in Compressed Time. Environmental Management.
Méndez,-Tejeda, R., Perez, K. y Barreto, M. 2020. Impact of Extreme Weather Events on the Beaches of Puerto Rico. The Case of Ocean Park, San Juan. American Journal of Marine Science, v.8, n.1, 1-15.
Bukvic, A., Biver, P., Barreto, M. and Roberts, S. 2019. Mobility: Strategy for a New Coastline. Coastal Management Journal (September 2019).
Barreto, M., Méndez, R., Rodriguez, E., Cabrera, N., Díaz, E., Pérez, K. 2019. State of the beaches in Puerto Rico after Hurricane Maria (2017). Shore and Beach, V. 87, N.1, p. 16-23.
Barreto, M., Estremera, R., Govander, Y. 2017, Informal Science Education: An approach for engaging communities in understanding beach processes at Puerto Rico (2013-2015): Shore and Beach v.85, n.1.
Grants/Subvenciones
2019-2022 Federal Emergency Management Agency (FEMA), Assessing post -storm/ recovery stage of beach systems at Puerto Rico after Hurricane Maria and its implications for coastal planning best practices. Principal Investigator Maritza Barreto, CoPis, Luis Santiago, Rafael Méndez, Aurelio Castro. 1.5 million.
2019-2021 Us Geological Survey (USGS) Wood Hole MS, Shoreline mapping, change estimation and forecasting for the coast of Puerto Rico impacted by Hurricanes Irma and Maria. Cooperative Agreement, $150,000. Principal Investigator, Maritza Barreto.
2017-2019 University of Puerto Rico, Rio Piedras Campus, "Estudio de impacto de la política pública sobre la adjudicación del uso del terreno en las cuencas hidrográficas del Río Grande de Manatí y el Río Loco", Supported by University of Puerto Rico. PI Maritza Barreto, Co Investigators Luis Santiago, $40,000 and 2 PhD assistantships.
2015-2017 University of Santo Domingo (Universidad Autónoma de Santo Domingo), "Impacto del Cambio Climático y de las Actividades Antropogénicas sobre la Geomorfología de 10 Playas de Bávaro, Punta Cana, República Dominicana.", Supported by Fondo Nacional de Innovación y Desarrollo Científico y Tecnológico, FONDOCYT, PI Prof. Gladys Rosado, Co Pis Maritza Barreto y Rafael Mendez. 3 years.
Última actualización / Last Updated on junio 28, 2023